Organize your Meetups at Apium Academy
September 9, 2019
2022-10-31 16:39
Organize your Meetups at Apium Academy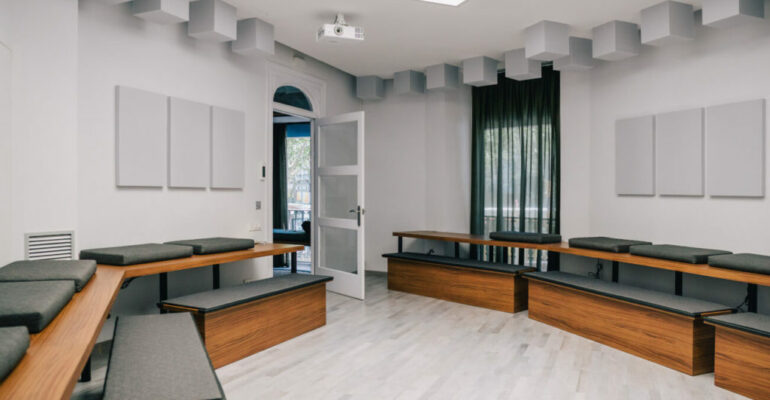 Organize your Meetups at Apium Academy
If you're from Barcelona (or living here) and you're looking for a venue where you can organize your meetups or events related to the tech or Software Development world, here at Apium Academy we'll be delighted to offer our space. We invite you to use our Auditorium classroom for wathever you might need: open spaces, trainings, workshops, coding dojos… we want to help and collaborate with all these event directed by and for Barcelona's tech community.
Organize your Meetups at Apium Academy
At Apium Academy you'll find the option to rent a venue for events in Barcelona, more specifically our Auditorium room. This room is taylor-made to host workshops, talks, trainings or courses; it is, in fact, the room we use to give our Software Development Courses, so it has all the needed elements for these kinds of activities.
Another thing we'd like to highlight is that, if the meetup you're organizing is free, that is, you're not earning any economical gain from its hosting, we're also going to lend you our venue for free. We want Barcelona's tech community to keep growing and improving, and we'll do anything in our power to that end. That's our philosophy.
Software Crafters Barcelona have already organized Coding Dojos at our venue, and very soon it'll be Pivotal who'll organiza free Product Ownership Meetups at our Auditorium room.
Organize Corporative Events at our Auditorium
If what you want to organiza is a corporative event that requieres some form of payment by the attendee (to cover up organization costs or to pay a speaker, etc…), then you can contact us and we'll send you our prices.
You can rent our Auditorium venue if want to host a corporate event in Barcelona and need a professional, distinguished and elegant space.
Our venue has room for groups of up to 40 people, and it has these services and features included in its price:
Projector
Silent air conditioning
Soundproofing via acoustic panels
Wi-fi
Beer Tap
Coffee machine
Water
Timetable: you can schedule our venue without limitation to business hours, including weekends, but we'll ask you to respect the established renting period.
If you need a catering service, we will be glad to recommend a trust-worthy company.