Apium Academy plays a crucial role in GSAS
January 28, 2020
2022-10-27 10:47
Apium Academy plays a crucial role in GSAS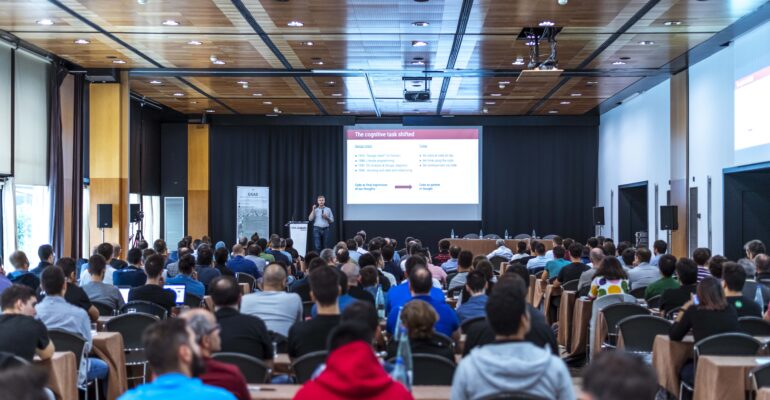 Apium Academy plays a crucial role in GSAS
In 2019 Global Software Architecture Summit took place in Barcelona and Apium Academy played a crucial role in GSAS. It was attended by more than 200 software architecture professionals from the United States, England, Russia, Poland, Germany, France, Switzerland, Belarus, Ukraine, Lithuania, Portugal, Spain and others.
Software Architects from Thoughtworks, Doctoralia, Xing, Vista Print, Oracle Netsuite, Everis, TopTal, MrWonderful, Farfetch, Privalia, Worldsensing, Grifols, Voxel group, Roche, Wallapop, Talentry, Adevinta, Allianz, Lidl, N26, Lufthansa, PromoFarma, Notime, Hosco, Habitissimo, HP, Japan Tobacco International or the Barcelona City Council and others were reunited for one day to discuss:
Software projects; their scalability, performance issues
Architectural principles, processes, and tools
Software architecture evolution
Reactive Architecture Patterns
Architectural Thinking
Effective Architecture Practices
Evolutionary Architecture
Architecture Styles
And many other software architecture topics
This edition wouldn't be possible without these key players who played a crucial role in GSAS:
Speakers
George Fairbanks – Author of the book "Just Enough Software Architecture: A Risk-Driven Approach"
Mark Richards – Author of "Software Architecture Fundamentals" (O'Reilly video) and "97 Things Every Software Architect Should Know"
Len Bass – Author of the book "Software Architecture in Practice"
Ian Gorton – Author of the book "Essential Software Architecture"
Sandro Mancuso – Author of the book "The Software Craftsman: Professionalism, Pragmatism, Pride"
Eoin Woods – Co-author of the book "Software Systems Architecture"
Michael Feathers – Author of the book "Working Effectively with Legacy Code"
David Farley – Author of the book "Continuous Delivery: Reliable Software Releases Through Build, Test, and Deployment Automation"
And other software architecture influencers like Ana-Maria Mihalceanu, Juan Manuel Serrano, Álvaro García, Alex Soto, Viktor Farcic, Christian Ciceri, Cristian Cotes, Carlos Blé and Jakub Marchwicki.
Sponsors
GOLD: Apium Academy
SILVER: Apiumhub
BRONZE: DocPlanner, Farfetch, Ekon, Autentia
You may find all the GSAS materials here:
We received very positive feedback from speakers & attendees and already started organizing next GSAS edition!
We run a survey and collected feedback on what we can do to make GSAS 2020 better, so here are the results:
This year Global Software Architecture Summit will be a two days event and will take place 1-2 October, 2020 in Barcelona.
We aim for 350 software architects from all over the world
Practical software architecture talks in the morning ( 1 track ) and hands-on software architecture workshops ( 4 tracks )
Venue: Cinema – Filmax Gran Via
Recommended & confirmed speakers:
Neal Ford – Author of the book "Building Evolutionary Architectures: Support Constant Change"
Carola Lilienthal – Author of the book "Sustainable Software Architecture"
Mark Richards – Hands-on software architect & founder of DeveloperToArchitect.com
Nathaniel Schutta – Author of the book "Thinking Architecturally"
Ben Evans – JVM Technologies Architect at New Relic
Rene Weiß – Software Architect, Consultant & Coach at embarc
Eoin Woods – Co-author of the book "Software Systems Architecture"
Vladik Khononov – Co-organizer of the "DDD Israel" and "Tel Aviv Software Architecture" groups
Emily Bache – Author of the book "The Coding Dojo Handbook"
João Rosa – Strategic Software Delivery Consultant at Xebia
Clare Sudbery – Lead consultant developer with Made Tech
Sonya Natanzon – Solutions Architect at Guardant Health
Mathias Verraes – Founder of Domain-Driven Design Belgium
Marit van Dijk – Software Engineer at bol.com
Mike Amundsen – Co-author of the book "Microservice Architecture"
And more to be announced soon….
Btw, Blind tickets are already available here: GSAS and if you are more than 3, you get a group discount!
If you would like to support the event or sponsor it, get in contact with us: gsas@apiumhub.com
We are very excited about GSAS 2020 and will definitely sponsor it again!
See you in October?