Apium Academy juega un papel fundamental en la organización del GSAS
enero 28, 2020
2022-10-27 9:10
Apium Academy juega un papel fundamental en la organización del GSAS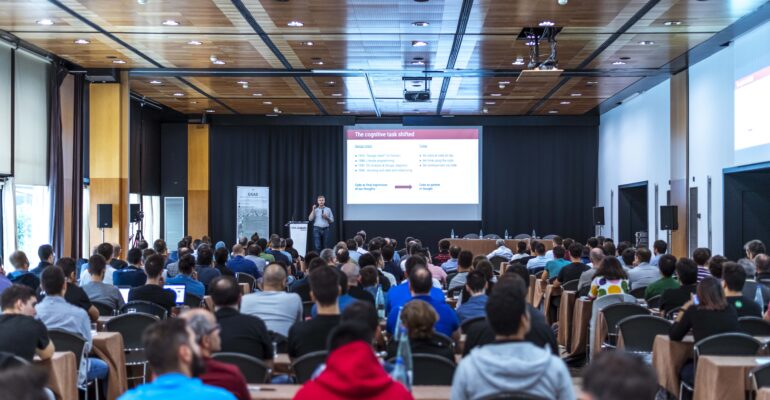 Apium Academy juega un papel fundamental en la organización del GSAS
Este 2019 tuvo lugar en Barcelona la primera edición del Global Software Architecture Summit (GSAS) gracias a Apium Academy y su papel fundamental en la organización del GSAS; un evento en el que se unieron más de 200 profesionales de la arquitectura de software de países como Estados Unidos, Inglaterra, Rusia, Polonia, Alemania, Francia, Suiza, Bielorrusia, Ucrania, Lituania, Portugal, España y otros.
Arquitectos de software de Thoughtworks, Doctoralia, Xing, Vista Print, Oracle Netsuite, Everis, TopTal, MrWonderful, Farfetch, Privalia, Worldsensing, Grifols, Voxel group, Roche, Wallapop, Talentry, Adevinta, Allianz, Lidl, N26, Lufthansa, PromoFarma, Notime, Hosco, Habitissimo, HP, Japan Tobacco International el Ayuntamiento de Barcelona y otros se reunieron durante un día para debatir sobre:
Proyectos de Software; su escalabilidad y problemas de rendimiento
Principios, procesos y herramientas arquitectónicas
Evolución de la Arquitectura de Software
Patrones de Arquitectura Reactiva
Pensamiento arquitectónico
Prácticas de Arquitectura Efectivas
Arquitectura Evolutiva
Estilos arquitectónicos
Y muchos otros temas relacionados con la Arquitectura de Software.
Esta edición fue posible gracias a estos ilustres personajes:
Ponentes
George Fairbanks – Autor del libro "Just Enough Software Architecture: A Risk-Driven Approach"
Mark Richards – Autor de "Software Architecture Fundamentals" (O'Reilly video) y "97 Things Every Software Architect Should Know"
Len Bass – Autor del libro "Software Architecture in Practice"
Ian Gorton – Autor del libro "Essential Software Architecture"
Sandro Mancuso – Autor del libro "The Software Craftsman: Professionalism, Pragmatism, Pride"
Eoin Woods – Co-autor del libro "Software Systems Architecture"
Michael Feathers – Autor del libro "Working Effectively with Legacy Code"
David Farley – Autor del libro "Continuous Delivery: Reliable Software Releases Through Build, Test, and Deployment Automation"
Y otras figuras influyentes del mundo de la arquitectura de software como Ana-Maria Mihalceanu, Juan Manuel Serrano, Álvaro García, Alex Soto, Viktor Farcic, Christian Ciceri, Cristian Cotes, Carlos Blé y Jakub Marchwicki.
Sponsors
GOLD: Apium Academy
SILVER: Apiumhub
BRONZE: DocPlanner, Farfetch, Ekon, Autentia
Podrás encontrar todos los materiales relacionados con GSAS en los siguientes enlaces:
Tras esta primera edición, recibimos un feedback muy positivo de parte tanto de los ponentes como los asistentes, y con esta valiosa información hemos empezado la organización del GSAS 2020.
GSAS 2020: ¿Qué puedes esperar?
Tras enviar una encuesta a los participantes de la primera edición y recolectar y analizar el feedback recibido acerca de qué elementos se podían mejorar de cara al GSAS 2020, aquí están los resultados:
Este año, el Global Software Architecture Summit durará dos días en vez de uno, teniendo lugar el 1 y 2 de Octubre, en Barcelona.
Esperamos recibir 350 arquitectos de software de todo el mundo.
Ponencias prácticas sobre Arquitectura de Software durante la mañana (1 track) y workshops de Arquitectura de Software por la tarde (4 tracks).
Localización: Cines – Filmax Gran Via
Ponentes recomendados y confirmados:
Neal Ford – Autor del libro "Building Evolutionary Architectures: Support Constant Change"
Carola Lilienthal – Autor del libro "Sustainable Software Architecture"
Mark Richards – Arquitecto de Software y fundador de DeveloperToArchitect.com
Nathaniel Schutta – Autor del libro "Thinking Architecturally"
Ben Evans – JVM Technologies Architect en New Relic
Rene Weiß – Arquitecto de Software, Consultor y Coach en embarc
Eoin Woods – Co-autor del libro "Software Systems Architecture"
Vladik Khononov – Co-organizador de los grupos "DDD Israel" y "Tel Aviv Software Architecture"
Emily Bache – Autor del libro "The Coding Dojo Handbook"
João Rosa – Strategic Software Delivery Consultant en Xebia
Clare Sudbery – Lead consultant developer con Made Tech
Sonya Natanzon – Solutions Architect en Guardant Health
Mathias Verraes – Fundador de Domain-Driven Design Belgium
Marit van Dijk – Ingeniero de Software en bol.com
Mike Amundsen – Co-autor del libro "Microservice Architecture"
Y más que iremos anunciando en breve…
Por cierto, los Blind Tickets están disponibles aquí: GSAS, y ¡hay descuentos para grupos de más de 3 personas!
Si quieres apoyar o esponsorizar el evento, ponte en contacto con nosotros: gsas@apiumhub.com
¡Tenemos muchas ganas que empiece este GSAS 2020 y definitivamente volveremos a ser uno de sus sponsors y nos encargarémos de la organización del GSAS!
¿Nos vemos en Octubre?