Apium Academy Supports The Global Software Architecture Summit
March 6, 2023
2023-03-06 11:10
Apium Academy Supports The Global Software Architecture Summit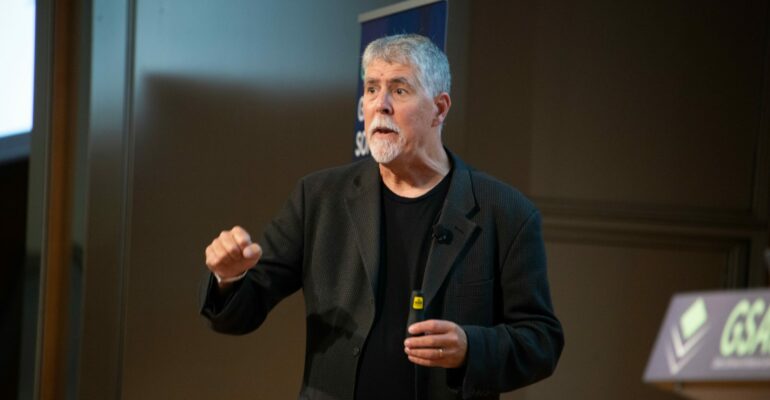 Apium Academy Supports The Global Software Architecture Summit
Apium Academy actively participates in software development events, and in 2022 it became a sponsor of the Global Software Architecture Summit, an event organized by Apiumhub, the software development hub based in Barcelona.
Last year´s edition was focused on software architecture metrics. Some of the authors from the book "Software Architecture Metrics: Case Studies to Improve the Quality of Your Architecture" published by O'Reilly, attended the event as speakers, including Christian Ciceri, Dave Farley, Neal Ford, Andrew Harmel-Law, Michael Keeling, Carola Lilienthal, João Rosa, Alexander von Zitzewitz and Rene Weiß.
GSAS 2022 Attendees
The Global Software Architecture Summit 2022 reunited more than 450 professionals from all around the world. Just to give you some facts, attendees came from countries such as Spain (52.7%), Germany (6.4%), the Netherlands (5.9%), Poland (4%), Italy (2.8 %), Lithuania (2.8%), Serbia (2.4%), Portugal (2.4%), Norway (2.4%), Czech Republic (2.4%), Romania (2.4% ), USA (2.2%), Canada (2.1%), Croatia (1.9%), UK (1.8%) among others.
The profile of the professionals that attended the Global Software Architecture Summit last year was also very diverse. Sponsors were expecting to see an event full of software architects, but surprisingly, the event also caught the interests of senior developers and tech leads as well. This is the summary of the profiles that attended the event
66.4% – Senior developers
8.5% – Tech Leads
8.1% – Software Architects
6.2% – CTOs
5.6% – Principal Engineers
3.4% – Recruiters
GSAS 2022 Speakers
The Global Software Architecture Summit also featured talks and hands-on parallel workshops from renowned professionals in the tech industry including:
Michael Feathers
Founder and Director of R7K Research & Conveyance, a company specializing in software and organization design. Michael has acted as a consultant over the past 20 years for hundreds of organizations, supporting them in software design, process change, and code revitalization. He actively participates in international conferences as a speaker sharing his knowledge with the software development community. One of his passions is working with businesses to assist them to understand how internal communication and organization affect the long-term survival of their software products and put interactions in place to prevent building up technical debt and losing out on economic prospects.
Carola Lilienthal
Carola is a Senior Software Architect, General Manager of WPS, author of "Sustainable Software Architecture" and co-author of "Software Architecture Metrics."
George Fairbanks
George Fairbanks is a Software Engineer at Google and the author of the book "Just Enough Software Architecture." He has participated in the program committees for the European Conference on Software Architecture, the International Conference on Software Maintenance, and the Working International Conference on Software Architecture (WICSA) (ECSA). He has also served as a mediator for IEEE Software and IEEE Transactions on Software Engineering (TSE).
Sonya Natanzon
Sonya Natanzon is a Solutions Architect for Guardant Health and is passionate about using tech to assist patients. She is in charge of a group of engineers and works on numerous cross-functional software projects. She has several years of experience as a software engineer in the healthcare sector and enjoys sharing her insights to further explain this intricate market and demonstrate how fulfilling the work is.
Mark Richards
Mark Richards is an experienced hands-on software architect and founder of DeveloperToArchitect.com, a free resource website dedicated to helping programmers on their development journey. Mark Richards is also the author of numerous technical books and videos, including "Fundamentals of Software Architecture: An Engineering Approach", "Software Architecture: The Hard Parts: Modern Trade-Off Analyses for Distributed Architectures" and many more.
Nathaniel Schutta
Nathaniel Schutta is a Software Architect that focuses on cloud computing and creating usable applications. He regularly participates in conferences around the world, meetups, and more.
The top-rated talks that received a lot of positive reviews and follow-up questions were:
Testing Software Architecture by Mark Richards
Pragmatic Approach to Architecture Metrics A presentation by Sonya Natanzon and Vladik Khononov
Aligning Architecture with Responsibility Indices by Michael Feathers
Improve your architecture with the Modularity Maturity Index (MMI) by Carola Lilienthal
GSAS 2023 Edition
The Global Software Architecture Summit will celebrate its third edition on October 9-11, 2023, but this time the event will take place at the Axa Auditorium in Barcelona. The call for papers is still open, if you are interested in sharing your knowledge and expertise with the software architecture community, you have until the end of March to submit your proposal.
Some of the experts that already confirmed their attendance are:
Neal Ford – Co-author of the book "Software Architecture: the hard parts"
Mark Richards – Co-author of the book "Fundamentals of Software Architecture"
Nathaniel Schutta – Author of the book "Thinking Architecturally"
Ben Evans – JVM Technologies Architect at New Relic and author of the book "Optimizing Java"
Jacqui Read – Hands-on Architect and Founder at Read The Architecture
Nick Tune – Author of the Book "Architecture Modernization"
Sandro Mancuso – Author of the book "The Software Craftsman: Professionalism, Pragmatism, Pride"
Eoin Woods – Co-author of the book "Software Systems Architecture" & "Software Architecture Metrics"
Also, if you are into the tech community and would like to contribute, GSAS organizers are currently looking for sponsors to support the event. This is an excellent opportunity to connect with software architects and industry leaders, increase your brand's reach and attract talents from diverse backgrounds.
Blind tickets are available for a limited time. Get yours here before the price increases. We hope to see you there on October 9-11!